Welcome to another post about the fun adventures I've been on! Last Saturday, my mom had to work and my dad is a teacher, so he gets every Saturday off. I was very bored at home. To fix this problem, I decided to drag my dad into taking me to a place called the Hocking Hills.
The Hocking Hills is a group of natural sites and parks with everything from waterfalls and lakes to cliffs and caves. The most popular attractions are Old Man's Cave, Cedar Falls, and Ash Cave. Now, since I live within half an hour from the Hocking Hills, I have taken multiple hiking trips to those places before. I wanted a new experience, so I went to two parks that sounded interesting: Cantwell Cliffs and Rock House.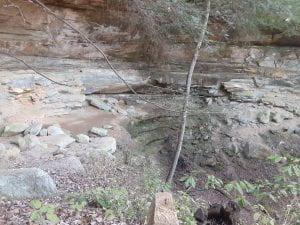 This image was taken at Cantwell Cliffs. The first part of the hike was pretty easy, but early on at "the squeeze", stairs made of rocks got covered in leaves and were quite slippery! You had to be careful of your step to make sure that you didn't slip and fall on hard rocks. Then the trail broke off into two sections, the Gorge Trail and the Rim Trail.
My dad and I took the Rim Trail, which took you around the side of a couple of cliffs. It sounds intimidating, but it was very safe and kind of easy. After roaming around the bottom of one of the cliffs, the trail led us up the side of the cliff with more rock stairs and then went around to the rim of the cliffs. We got some awesome views from up high on this trail, so I am glad we chose it.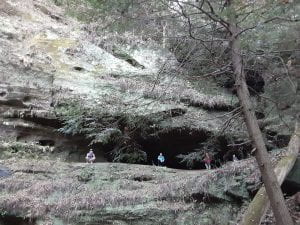 This image was taken at the Rock House, which was actually an unplanned stop. I told my dad on the way home that it sounded interesting, so he took me there to find out. This park's main point of interest is the house-like formation created by rocks. There were multiple tight squeezes to get into the house. But with Covid and the many people visiting the park that day, I decided not to see what it was like inside.
We continued along the trail to see the little shelf, which the picture above shows. To get up there, I had to climb over and under a few logs (and a few families), but it was worth it! I loved how it felt like I was breaking the rules, even though there were no signs saying you couldn't go up there.
I loved both of these places, but the Cantwell Cliffs were my favorite. The hike was longer and the sights were prettier. I would love to see both of them again and bring my sister along with me! For more photos and information on all the Hocking Hills parks, click here.