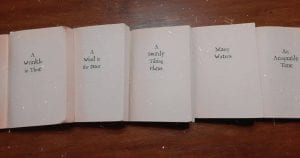 As you may have read in my previous post, I have read the book A Wrinkle in Time in the past. It is one of my favorite books, although many people believe it is hard to get into. Not only did I read this book, but I read the whole series as well, the Time Quintet. It consists of five books: A Wrinkle in Time, A Wind in The Door, A Swiftly Tilting Planet, Many Waters, and An Acceptable Time.
Some characters I will refer to are Meg, Sandy, Dennys, and Charles Wallace, the four Murry siblings. I will also mention Meg's daughter Polly, who appears in the last book, and Meg's friend Calvin, who is an important character in the series.
Let's read what I have to say about these five books!
---

A Wrinkle in Time
This was the first book to be released in the quintet, and it won the 1963 Newbery Medal. Out of all the books, this is my favorite. I love the way it was written, the theme of the story, and the odd and interesting characters. Most of the other books did not have characters like the strange people you can see on the side of the book shown above. They made the story fun to read. The concepts that were talked about in this book were strange, but nothing your mind does not have to work too hard to imagine.
A Wind in the Door
This book receives fourth place in my ranking. It is not my least favorite, but it was written in a way that I could not comprehend well and it seemed to get in the way of what I was reading. It is about Meg's brother Charles Wallace, who got severe disease, and Meg gets some people to help her try to fix it. The concepts that were talked about in this book were even stranger than in the first book. The characters were not fun or interesting to read about, in my opinion. The ending was rather uneventful and didn't add up to what I expected it to be.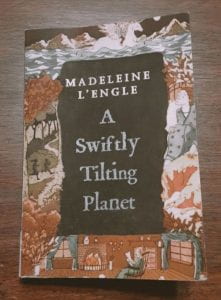 This receives last place on my ranking. I would describe it as cloudy or fuzzy because I still do not remember much of the book. For me, it was extremely hard to get into. It mostly dives into the history of how Calvin (an important character in the series) and his family came to be. I liked the information this book gave me, but nothing too significant happened.

Many Waters
This is my second-favorite book in the series. It is about Meg Murry's brothers, Sandy and Dennys, who are taken back to biblical times and have to try to find a way out. One of the things I like in a book is a set of characters who interest me, and this story hit the spot. It was fun to read, with more action and plot twists than most of the other books in the quintet. It was unlike anything I had ever read before.
An Acceptable Time
This book will receive third place on my list. I think it was good, but I did not enjoy it as much as Many Waters and A Wrinkle in Time. It is about Polly, an old friend of Polly's, and a bishop that stumble into a time 3,000 years before their own. A lot of good and bad things come out of this. The book interested me because it dove into the lives of ancient people and made me think of them in a much different way than I had before. The story was eye-opening, making me think deeply about a lot of things.
Overall, I would recommend this series to anybody who loves new and different books. All of these stories were very diverse, but I view that as a good thing. They are not for everybody because of their oddness. I still recommend it as something to try, because you never know when you will find another book you like!